Bio-data

Name

Shigeo Ogino

Date of birth

December 21, 1954

Birthplace

Tokyo Nishinippori
After graduating from high school., Tsurutaro kataoka became a pupil of Tsuruhachi Kataoka., 3 years later, he had his first appearances at Toho master recial and Asakusa Engei hall. After that he gained a foothold in the world of variety shows and became popular. Now he is playing an active role as an actor playing wide range of characters and he has won numerous awards such as Japan Academy Prize for Best supporting actor.

As a painter, he held his first exhibition called "Like a Dragonfly" in Tokyo in 1995. Since then, he is holding solo exhibitions with new creations his masterpieces every year. In 2001, he held his first oversea solo exhibition in Paris, France and made a favorable impression. From 2003 to 2005, he introduced his secrets of ink wash painting to his audience and fans at the NHK leisure program in the series of "Private School of Ink wash painting in Tsurutaro's style.

In 2011, he held his first exhibition for his real Buddhist paintings. In 2013, he was responsible for the design of the arnamental apron for hakuho, the 69th Yozakura and it has been decided to the Ise Shrine.

Tsurutaro created many enchanting paintings and in this way, he has captured the heart of many people.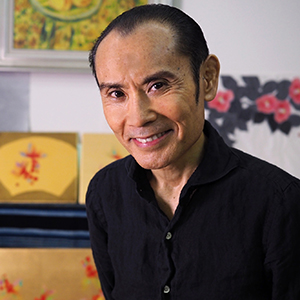 ---
Biography
1972

Became a pupil of Tsuruhachi Kataoka (famous mimicry talent)

1975

First performance at (named) Asakusa theatre, Asakusa-Engeijo

1981

Started regularly performance for one of the most famous TV comedy programs., Oretachi-Hyokinzoku

1988

Acquired Professional Boxer License(recognized by Japan Boxing Cosmmission)
EXHIBITION as a painting artist
1995

Title: "Tonbo no yoni"

1996

Title: "Kokorosaisai"

1997

Title: "Sanbanka"

1998

Title: "Mongaikan"

2000

Title: "Ryusei"

2001

Title: "Akatonbo"

2002

Title: "Hananeiro"

2003

Title: "Semishigure"

2004

Title: "Nagaretsubaki"

2005

Title: "Yozakura"

2006

Title: "Yuri Ryumon"

2007

Title: "Watanoyu"

2008

Title: "No rain, No Rainbows."

2009

Title: "Bokugisaika"

2010

Title: "Tsuyabaki"

2011

Title: "Sumibotan"

2012

Title: "Shorotsubaki"

2013

Title: "Yuguremurasaki"